.
Setup A Job Site Work Station
Things can go a lot smother and faster if you have some kind of jobsite workstation set up around your miter saw and table saw.
I have a couple of sets of stackable saw horses dedicated for this purpose.
You can usually find plywood or 2x material on site to make a table top.
.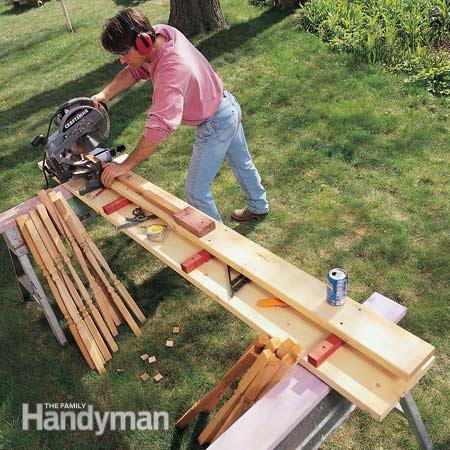 "Use materials on hand for this simple bench

Whether you're working in your garage, out in the backyard building a shed or up at the in-laws' cabin building a deck, take a few minutes and cobble together a miter saw bench, With a little creativity, you can use just about any materials you have on hand. The only custom work you'll need to do is to rip some spacer boards to make the outfeed support the same height as the saw table. It sure beats kneeling on the grass or perching the miter saw on horses. And the bench does double duty as a super-convenient work surface too."

.

Have You Heard Of The Toe Nail Trick?

.