Here's Some More Of Those Great Carpentry Tricks and Tips I Found Over At The Home Handyman Site.
Strings and Stakes Work Sometimes
Strings and stakes work sometimes, but there is another way to maintain layout control for small project areas
When we used to build garbage enclosures for our commercial projects, after the gate post and bollard holes were dug, the easiest way to control the gate post, corner post and bollard post layout for the concrete pour was to build a layout template on the ground. All these posts could be set to elevation, and braced plumb before the concrete truck arrived.
Here's a similar setup in a residential. situation.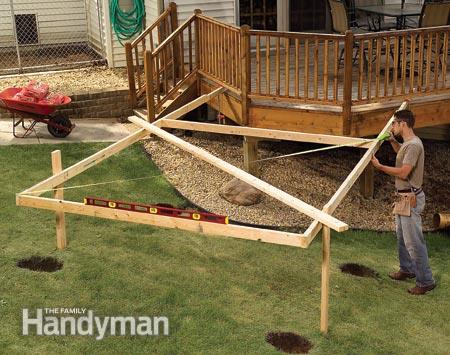 "Use the construction lumber as a template

You see it in print and on TV everywhere—some stake and board contraption set up to hold strings to help position postholes, or lay out footings or building footprints. But most of the time, there's a much better way. Tack together the construction lumber to outline the structure, square it up and use it as a giant template to do all your marking. Set it aside to do your digging and replace it to set the posts."

 .

You Need A Jobsite Work Station

.