.
I'll Bet You Didn't Know These Wooden Framed Bicycles Were Being Made
Mike Mahoney, founder of Savvy Cycles in Grand Junction, CO, has been working on and perfecting his wooden bicycle design for a couple of years now.
Mike has quite a bit of experience in woodworking and manufacturing.
He had his own cabinet shop, taught woodworking and manufactured skate boards.
His main attention recently has been bicycles. Here is what he has to say.
Hickory and ash are used as the primary woods in the bike frame for their strength, durability and ability to be steam bent, to ensure a strength, durability and smooth ride.  Other woods such as sepele and died hard maple are used for accents.

It all starts when the wood arrives in the shop. The shops relative humidity is carefully monitored to ensure the wood remains at the desired moisture content from start to finish. This along with attention to grain patterns and direction, gives us the straightest and most stable frame possible. The main triangle is laminated as two halves with eight or more plys of either hickory or ash in each half. Each half is then CNC machined on the inside, creating tapered butted tubing.

The outside is then

CNC machined [using a Laguna Swift 4×4 CNC router] giving the front triangle its general form.

Internal cable routing is also machined into the frame before the two halves are joined. Once assembled the front triangle goes through many hours of hand work to refine the shape and curves of the tubes into its beautiful form. We fit a strengthening aluminum ring to the top of the seat tube and the top and bottom of the head tube. The chain stays are made up of nine plys of hickory.

They are first steamed, inserted into their mold and pressed under high pressure with our hydraulic press. When they are dry, the nine plys are removed from the mold, glued and returned to their mold and pressed again to cure. By taking the extra time to press the chain stays in this manner, we get a very accurate alignment when the chain stay is attached to the main triangle. The seat stays are also made up of nine plys laminated in a similar manner as the chain stays.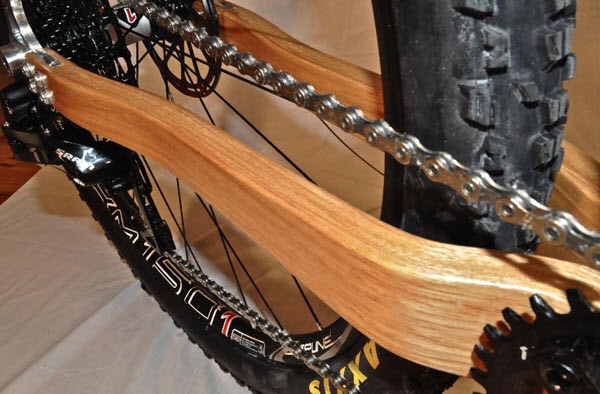 .